Eyebrows are among the most striking elements on the face for both women and men. They enhance and draw attention to your eyes and accentuate the shape of your face.
Your eyebrows can communicate not just your external appearance but also your moods to others. So it can not be very pleasant if you notice that your eyebrow is thinning or shedding.
Dr. Harikiran Chekuri, an acclaimed hair transplant surgeon and founder of Redefine Hair Transplant& Plastic Surgery Center in Hyderabad, says that many people are looking at options to make their eyebrows more filled out and prominent.
According to him, while some people want to reshape their eyebrows for aesthetic reasons, there are a lot of people seeking medical help due to eyebrow shedding.
In this article, we discuss the difference between Eyebrow Transplant and Microblading treatments. But before that, let us understand what causes eyebrow shedding.
Eyebrow shedding and its causes:
Not everyone is blessed with perfectly formed brows from birth. Also, even those with perfect brows can lose them due to a variety of circumstances such as physical damage, accidents, traumas, or aging.
Eyebrow thinning or shedding could be related to illness, skin disorders, hormone imbalances, or an overactive immune system. Nutritional shortages or emotional stress can also cause decreased or thinning brows.
People use various treatments such as trimming, plucking, waxing, and perhaps even penciling in their brows to conceal or cure malformed brows.
Dr. Harikiran Chekuri, a highly-skilled hair transplant and plastic surgeon in Hyderabad, cautions against plucking your brows on a regular basis as it can result in not only brow loss but also infections and ingrown hairs.
The 2 most common treatments for eyebrow shedding or eyebrow enhancing are Microblading and Eyebrow Hair Transplant. Read on to understand both these treatments.
What is microblading?
Microblading, commonly referred to as "micro-stroking" or "feather touch", is a new manual cosmetic technique that has replaced tattooing and micropigmentation.
The microblading operation starts with choosing the eyebrow size and shape. The microblading specialist will then use a small hand-held tool containing needles to implant color pigments that appear like real eyebrow hair. A topical anesthetic is usually applied to the tattooed region to numb most of the pain.
The effect could appear to be natural if the pigments utilized in the process are compatible with the color of your eyebrow hair.
The procedure, side effects, and recovery
It takes roughly 2 hours to complete the process.
The common side effects during the 1st week of recovery include redness, itching, and minor swelling.
You should avoid getting your brows moist while you are recovering, so do not wash your face for about a week after the procedure. It could take up to 2 weeks for you to heal completely.
How long will the treatment last?
Microblading is not as long-lasting as traditional tattooing. Although your eyebrows will appear darker following the surgery, the color and lines will fade over time. The effects usually last 1 – 3 years, and you may have to go back for touch-ups.
What is an eyebrow transplant?
During the eyebrow transplant, donor hair is taken from your head and implanted into your eyebrows. It is a long-term treatment that gives your hair a natural and authentic look.
The first step in an eyebrow transplant, like microblading, is to select the size and structure of your desired eyebrows.
Dr. Harikiran Chekuri, a top-notch hair transplant surgeon in Hyderabad, employs a similar technique used in FUE hair transplant to conduct an eyebrow transplant.
Under local anesthetic, our specialists extract hair grafts from the back of your head or above your ears. Then they insert the grafts into the bald or sparse areas of your eyebrows while ensuring that the natural shape of your eyebrows is maintained.
At Redefine Hair Transplant & Plastic Surgery Center, our specialists make sure that each graft is placed one at a time and has no multiple strands.
The hair transplant cost in Hyderabad varies between Rs. 40 – Rs. 80 per hair follicle, depending on the hair transplant procedure used and the quality and donor locations of the follicles.
The procedure, side effects, and recovery
This meticulous and detailed procedure may take 2 to 3 hours to implant 200 – 300 grafts on each eyebrow.
Infections are uncommon due to the scalp and the eyebrow regions' vascular nature. You may have some swelling for a day or 2. Avoid stressful exercises for up to 3 weeks.
The time it takes to recover from an eyebrow transplant is comparatively shorter. You may recover within a week. You will see a marked improvement in the appearance of your eyebrow within a year.
How long will the treatment last?
Eyebrow implants are permanent, so you do not need more than 1 treatment; however, you may need touch-ups if you want to increase the hair density further.
Please remember that because the implanted hair keeps growing, it must be trimmed on a regular basis.
Eyebrow transplants are preferred over microblading due to the extremely natural-looking eyebrows as the hair used is your natural healthy hair and also because of the permanent nature of the treatment.
Conclusion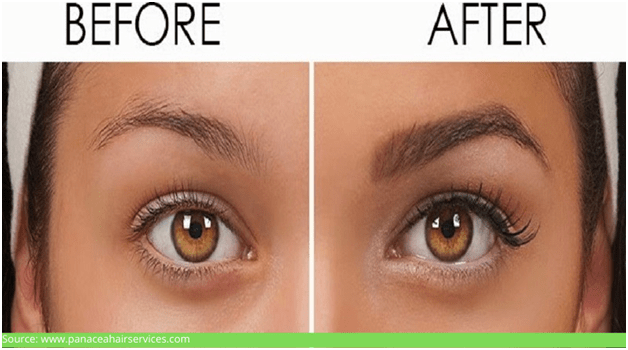 Your eyes and eyebrows are very engaging features when you are communicating with others. You can convey your nonverbal emotions with just a slight movement of one or both of your eyebrows. As a result, any problems with your eyebrows tend to diminish your confidence or increase the likelihood of misunderstanding when talking.
Whether you wish you had fuller eyebrows or are tired of painful visits to the beauty salon every 2 weeks for waxing, threading, and tweezing to get perfectly arched eyebrows, it is time to take action.
If you are looking for a permanent solution and authentic-looking eyebrows, fix an appointment with Dr. Harikiran Chekuri. He is one of the most trusted hair and cosmetic surgeons in Hyderabad, with over 14 years of expertise in his field.