Bariatric Surgery in Hyderabad
Redefine Hair Transplant & Plastic Surgery Center is a leading center for the best bariatric surgery in Hyderabad. It offers result-oriented weight-loss treatments for people suffering from obesity and lifestyle disorders. Bariatric surgery is a recognized and effective solution for severely obese people who have failed to lose weight through exercise and diet.
The center was founded by Dr. Harikiran Chekuri, a prominent plastic surgeon in Hyderabad, who has over 19 years of experience providing superior-quality procedures to help people gain the body they desire.
Dr. Harikiran Chekuri is considered one of the best bariatric surgeon in Hyderabad for his exceptional expertise, advanced surgical techniques, and honest opinions.
Here at Redefine, we focus on providing each patient with customized treatment and guidance according to their medical condition and preference to ensure positive outcomes in their journey toward a healthier life.
Read on to learn about bariatric surgery in Hyderabad, who can opt for it, and its cost.
Bariatric surgery overview

Bariatric surgery, often known as weight loss surgery, helps overweight people lose weight. If alternative weight loss techniques havenot worked and obesity poses a greater risk to your health,  your doctormay advise you to undergo bariatric surgery.
This procedure works by altering your stomach's holding capacity to limit the calories you can intake and absorb. Additionally, it can lower the signals your digestive system sends to your brain when you are hungry.
Bariatric surgery helps treat and prevent obesity-related metabolic diseases like fatty liver disease and diabetes. However, for it to be successful, it requires a lifelong commitment from the patient.
Different types of bariatric surgery
Several bariatric procedures function by limiting the quantity of food a stomach can hold, decreasing the body's capacity to absorb nutrients, or a combination of the two.
Dr. Harikiran Chekuri will recommend the most appropriate weight loss surgery depending on your health concerns, BMI, dietary habits, and previous procedures.
He is an expert in the following bariatric surgery:
Gastric sleeve

Gastric sleeve or sleeve gastrectomy is the most frequently carried out bariatric surgery in Hyderabad, as it is a safe, simple procedure with a low risk of complications.
During the procedure, the surgeon removes around 80% of your stomach, leaving behind a tubular, small portion that resembles a sleeve.
Your ability to eat in one sitting is lowered, and you get fuller more quickly. Furthermore, it also decreases the hunger hormones produced in your stomach.
This will control your hunger, stabilize your metabolism and regulate your blood sugar.
Gastric band

Laparoscopic gastric banding is a minimally invasive surgery wherein the surgeon will band the upper portion of the stomach to decrease its size so as to control food intake.
This bariatric surgery does not involve cutting or stapling the stomach, like others. That's why it is one of the most opted weight loss surgery in Hyderabad.
Duodenal switch

This procedure includes sleeve gastrectomy and intestinal bypass, just like Roux-en-Y gastric bypass. But the duodenal switch is a more radical surgery where 75% of your intestine is bypassed.
This significantly lowers the number of hunger-inducing hormones released in your stomach and small intestine.Further, your small intestine's capacity to absorb nourishment is also severely hampered.
Although it is a very effective procedure, it has more risks, such as making it difficult for your body to absorb the vitamins and nutrients it needs to stay healthy.
Post-operative care after bariatric surgery
Post-operative care after bariatric surgery
You will not be allowed to eat for a couple of days after the bariatric surgery to allow your stomach and digestive tract to heal. After that, you will have to follow a diet recommended by your doctor for a few weeks.
In the starting, it will only be liquids, then it moves on to pureed and extremely soft food, and finally to a regular diet. However, you will have to follow restrictions regarding to what to eat and how much.
During the initial months following bariatric surgery in Hyderabad, you will have to visit the doctor for regular check-ups to monitor your progress and health.
If the progress is good after a year and you have lost a considerable amount of weight, then you may discuss with your doctor about body contouring to remove the excess skin and tighten the loose tissues.
Who is the right candidate for bariatric surgery?
Everyone who is highly overweight may not benefit from weight loss surgery. Before undergoing bariatric surgery in Hyderabad, our doctor at Redefine Hair Transplant & Plastic Surgery Center will ask you to go through a screening process to see if you qualify for the procedure.
You will have to meet specific medical requirements, such as:
Apart from the above criteria, you must be prepared to make permanent lifestyle changes and be ready for regular follow-ups.
What is the cost of bariatric surgery?
The bariatric surgery cost in Hyderabad at Redefine Hair Transplant & Plastic Surgery Center is affordable and budget-friendly. The prices vary depending on the procedure you choose.
Moreover, you can avail of the no-cost EMI available at the center for easy payment. We also accept insurance.
What are the benefits of bariatric surgery?
Bariatric surgery can reduce up to 70% of your excess body weight. Furthermore, health issues caused by obesity can be entirely resolved or reversed.
Check out the benefits below:
What are the complications of bariatric surgery?
The long-term complications of bariatric surgery will depend on the type of procedure you underwent, which can include:
What is the result of bariatric surgery?
Following a healthy lifestyle is a life-long commitment after weight loss surgery. According to experts, if you can maintain a good diet and exercise routine, you can achieve outstanding results. Statistics indicate that most people recover successfully from surgery, shedding the necessary weight and keeping it off. After bariatric surgery, patients experience better life quality,are happier, and have fewer obesity-related issues.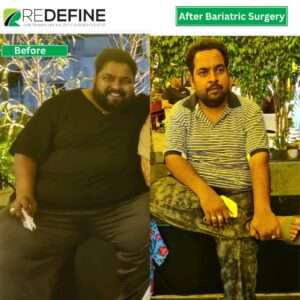 Frequently Asked Questions
You may not be eligible for bariatric surgery if:
You have health issues such as heart problems, blood clots, nutritional deficiencies, and kidney stones.
Youhave a psychological disorder such as anxiety, severe bipolar disorder, binge-eating disorder, severe depression, etc.
Youhave not made the necessary lifestyle changes and have gained weight during the evaluation.
Yes, getting pregnant is both possible and safe. However, you should wait for 1.5 to 2 years before trying to conceive to regain your health and optimal weight.
It takes about two years to lose weight. During the first three months, the patient loses weight quickly. Depending on the type of bariatric surgery performed, the patient may lose up to 50 to 65% of their body weight in the ensuing time frames. In order to maintain weight loss, it is crucial to adhere to diet advice completely.